Book A Rock Star Party Now!
To all the parents of future Rockstars:
We totally understand your stress level when trying to come up with fun birthday ideas and planning the best party ever and we want to make it a little…no…alot easier for you! Imagine having your child and her entourage getting their hair, nails, and makeup done in an impeccably designed pink party palace. But that's not all! When the lights turn down, the lasers beaming, and the music is blasting to their favorite tunes, they'll be singing karaoke and dancing their little hearts away! Now that is a party to remember!
Whether you are planning a birthday party, back to school party, or graduation party in the Houston area, no event is too big or too small for a kids spa party! RockStar Spa Bus will provide the most fun and memorable time for the girls the convenience right at your doorstep.
​
What little girl doesn't love being treated like a Rockstar on her special day? Your girl and her BFF's will love being pampered and partied on the Rockstar Spa Bus. Contact us today to book your kids spa party in the Houston area for a party she will not soon forget!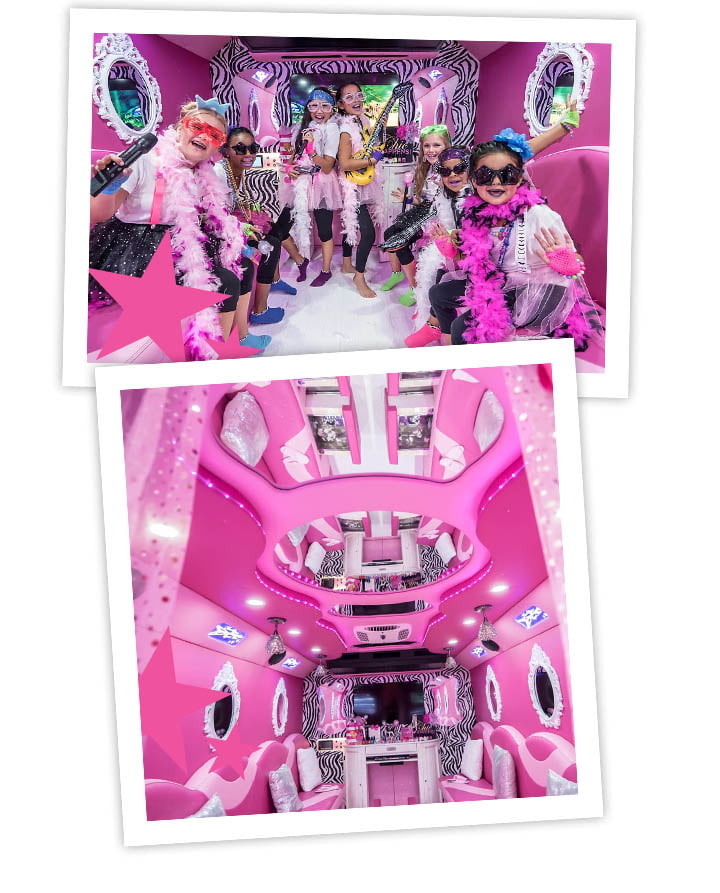 Houston Kids Spa Party Activities Include:
Red Carpet Roll Out entrance
Swank Spa Robes for spa service
Mini Mani: Nail filing, Botanical Hand Massage, Polish Color of choice with Nail Art for the special birthday girl
Mini Pedi: Floating Rose petals in the state of the art custom Whirlpool Jetted Footbath with LED lighting technology, MintSea Salt Soak, Nail filing, Mango Guava Polishing Scrub, Yummy Mango Foot Massage, Polish Color of choice
Rockstar Makeup Makeover: Neon Lipstick, Colorful Glitter Eyeshadows, Beauty Bright Blushes, Glitter Tattoos
Rockstar Hair Accesories: Braids, Colorful Hair Extensiosn, Flower Clips, Headbands, Glitter Hairspray, Crowns
Rockstar Party Props: Feather Boas, Lighted Sunglasses, Hats, Guitars, Glitter Microphones, Rockstar Jewelry, Party Beads, Tutus and so much more!
The VIP PARTY: Plasma TV streaming live from Youtube and VEVO music videos, Surround Sound Karaoke System, Laser
Beam lighting, Live Footage of party shown in video monitor