Are you searching for the best Houston TX girls parties? We have an option that might pique your interest. It's all about the birthday girl and Rockstar Spa bus wants to make sure that you know that. We dedicate ourselves to building a great atmosphere that will empower the girls and give them a glimpse into what luxury feels like. It's our goal to help the girls build confidence and satisfaction that only body care will provide. They should get a chance to be lavish and play the princess as much as possible. Giving them an experience like this will go a long way. They could remember it for years and look back on it as a standard. Since we're so interested in creating the best party possible, we'll even drive to you!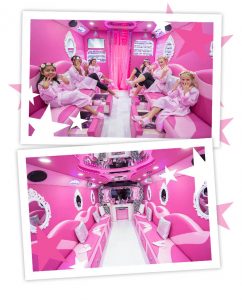 What Is A Spa Bus?
This is our signature offering and it will be the basis for all the packages we offer. We've learned through experience that real Spas are expensive. For the price you would pay for one entire party, you might not even get the best services that they offer. Rockstar doesn't want you to limit your children's access to such luxuries but we understand that it might not be the most inexpensive. However, we can find a perfect middle ground that gives you the best of both worlds. With our spa bus, you'll be able to give your daughter all of the great features of a fully furnished spa without the steep prices and the distance to travel!
What Options Come In A Spa Bus?
Our bus is jam-packed with amazing options that will excite you. You should be glad to know that our manicure and pedicure machines are top of the line. Not only that but we've loaded the bus with TVs and professional-grade lights. This way she can surf her favorite music and sing karaoke in all the glowing neon colors. We will give her a spa robe and even roll out a red carpet for her arrival. Every aspect of the spa bus is meant to provide her with an amazing experience she can cherish. Rockstar wants her to feel royal, even the makeup, wigs and glitter tattoos she can choose from will surely bring the princess out of her. If it wasn't already!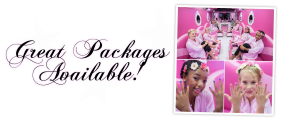 How Do Rockstar Spa Buses Work?
If you select one of our packages and put down your deposit, then on the scheduled day of the party, we will drive to your location! Assuming it is within the 30-mile radius of our location, it will be free of charge. All of our party buses are located in the Cinco Ranch and we will gladly drive so you don't have to worry about picking anything up. When you make your order please remember there are several factors to consider. In the event of inclement weather or a mechanical failure that keeps us from arriving at your party or even operating, we will return the full deposit or create a new schedule. If it occurs that you are not satisfied or you change your mind about using our services before the party please be advised that we have a 72-hour policy for cancellation. While we can't allow the parents to be on the bus due to our limited space, we do accept a single chaperone to join us in the fun. Otherwise, the only request we can make is that your daughter and her guests have their feet and hands cleaned and their nail polish removed before we arrive.
A Little Info On Our Pedicures
This is probably one of the biggest highlights of our company. We offer a very specific type of pedicure. In fact, we are the only Spa bus to use it. It is titled a custom whirlpool spa pedicure and it really does shine. The base of the machine is a pipeless whirlpool maker. The fiberglass base (which was handcrafted) is topped with a stainless steel footboard for the bath. There is also a shower spray and a hot & cold water faucet, too. The machine is complete with LED therapy lights that will calm and relax our little clients. It is a key point to make that we do not use sharp metal tools. However, the adult spa will offer all of the options that a traditional spa will. Together with these additions, our pedicure is now the most exquisite of all Houston spa parties. That will surely bring a smile to her face. It's simply the least we could do for the birthday girls out there.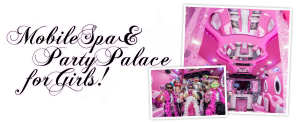 Contact Us Today For Your Next Party!
We have plenty of options to choose from that will take your breath away. Each one has a special theme that the kids will love. Rockstar breaks away from the norms but keeps still the same amount of luxury. Our equipment is state of the art and perfect for a princess party. Check out our party packages for the Houston area, we can give the best girl's birthday party around. If you have an interest in setting up a party, you can do so on our website here, or by simply calling our phone number:1-844-GIRL-SPA (4475-772). We are always looking forward to making the best part experience for any little girl and it makes us so happy. Just to know we are making one more day a special one is enough for us. With that, we wish you a great day and hope to hear from you soon!
FUN FACTS ABOUT HOUSTON TEXAS
There are more than 145 languages spoken in Houston
Houston is the second fastest-growing major city in the United States, falling just short of New York City, and is poised soon to overtake Chicago and become the third-largest city in the country.
The Houston metro area takes up 8,778 square miles, making it bigger than the state of New Jersey but slightly smaller than Massachusetts.
Houston might be known for its heat and Texas sunshine, but it has its fair share of stormy weather. The city gets an average of 45 inches of rain every year — about 10 inches more than Seattle.
For more info on Houston, click here to get all the information you desire.