Kids Party Bus Midtown
When you are looking to rent a kid's party bus Midtown, there are many options. With a quick search, you find many different types and themes of party buses around. For your princess, a spa day retreat may be just the thing you are looking for.
The great thing about party bus style services is that you don't have to worry about much. The bus shows up, and it treats your guests to a day of pampering. The party bus takes care of all the mess and worry. This is one of the lowest stress ways to throw a great girl party. It is something they will remember for a long time to come because it is such a unique experience.
The state of the art spa system comes right to your door. Our friendly staff then work to glam up the girls. Services include manicures and pedicures. The guests also receive nail polish in their choice of colors. They have their hair and makeup done as well. Finally, they get to the party on the bus. Laser beam lighting, music videos, and karaoke are all part of the deal.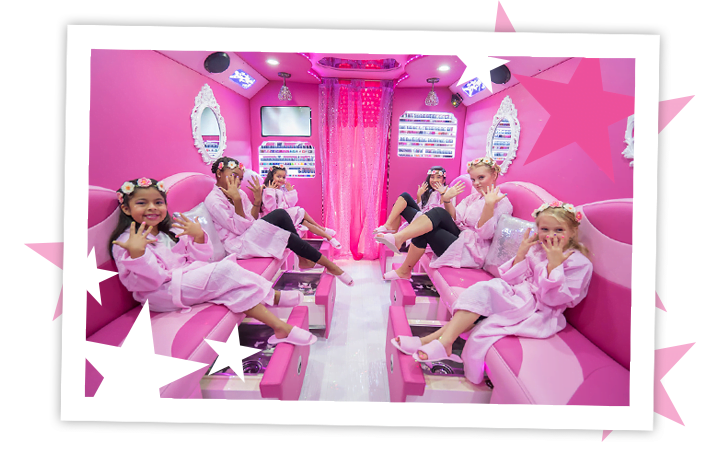 Our goal, at RockStar Spa Bus, is to provide a great experience for your guests. We take the headache and stress out of planning your party. To learn more, visit https://rockstarspabus.com. Our staff will be able to talk to you by phone at 844-GIRL-SPA if you have any questions. Book the spa bus today for any celebration.
What to Expect From Birthday Party Bus Packages
The services included from birthday party bus packages vary from package to package. With all of our packages, your guests will have a great time. We bring everything required to pamper the girls completely. All packages include 1 hour and 45 minutes of party bus time.
The bus comes complete with a whirlpool spa pedicure. This is a sophisticated spa appliance, which is very rarely seen on spa bus services. It is only available through the best party bus companies. The whirlpool spa pedicure is a very exclusive piece of spa equipment. Only one bus in Texas has it available.
The bus itself is bright pink and matches the girly energy of your guests. Along with the spa equipment, the bus is built to have a party. The bus comes loaded with a great speaker system and a karaoke machine. Add in the laser beam lighting, and your guests are ready to rock. The party bus also has internet access. Guests can access YouTube for additional entertainment. If you would like, you can bring your own music. The system has a CD/DVD player and auxiliary ports for other music devices.
We handle the rock-star treatment of your guests. RockStar Spa Bus worries about all the details so that you don't have to. To find out more about our packages, visit https://rockstarspabus.com. If you have any questions or would like more information, call us at 844-GIRL-SPA. We look forward to giving your girls an experience of a lifetime.
Making the Most of the Party Bus for 10-Year-Olds
The majority of the party bus packages are designed for ages 4 to 12. Some packages are put together with specific age groups in mind. This includes more age-appropriate music and videos. It also tailors the spa services to better suit the group.
One of the most important parts is that all of the guests need to have a signed permission slip. These are available on the website and must be signed for every child. We recommend having this done prior to the arrival of the princess party bus.
With the limited time available on the bus, help us make the most of it. We ask that all girls have no nail polish on. This includes fingernails and toenails. This lets our staff get to the fun part of the party, without wasting time removing nail polish.
We dedicate ourselves to providing a memorable experience for your girls. The RockStar Party Bus provides many of the best spa services, and we deliver it to the venue of your choice. To book now, call 844-GIRL-SPA. To see more on our great party services, check out our website at https://rockstarspabus.com.
What You Need for a Princess Party Bus
The party bus comes to you. To make sure that the guests get the most out of the party, there are some things you need to do. These must be completed before the bus arrives, to make the process go smoothly.
The party bus may need water and power hookups. Different packages require different hookups. We go over the requirements of the birthday party bus packages that have your interest. These are required for some of the spa services offered, and delays can cut into the party time.
In order for the bus to provide the services, it does need a space to park. Many hotels offer the appropriate space, with approval. Please ensure that our bus has approval and can legally park in your area. The proper clearance for the time of the party is needed to give your guests their party experience.
At RockStar Spa Bus, we bring the party to you. Our state of the art spa bus pampers your girls for any occasion. Call us at 844-GIRL-SPA, to book your party now. You can find out more details on our packages by visiting our website at https://rockstarspabus.com. We proudly serve the Katy and Houston areas.
Booking Your Kids Party Bus Midtown
The party bus is a great way to have an awesome party. The bus is available for any kind of celebration. Birthdays, graduations, or back to school parties are all exciting times. They are great reasons to look into a princess party bus.
No matter what the occasion, a party bus brings happiness to your guests. Booking your party package is easy. All of our pricing and package information will be online. Visit https://rockstarspabus.com to learn more. Call 844-GIRL-SPA to speak to our staff today. With RockStar Spa Bus, your kids party bus Midtown is the life of the party.
About Houston:
Over 50 million passengers in 2015 went through the three airports in the Houston area
Houston covers just under 9,000 square miles
Professional leagues of all major US sports have a home team in Houston
You can visit the city of Houston online at http://www.houstontx.gov