Kids Party Bus River Oaks
Have you been thinking about booking a kids party bus River Oaks? Party buses are becoming an increasingly popular way to celebrate almost any occasion. A party bus is a great way to ensure that your child feel special. There are a growing number in the area, many of which offer a variety of services.
Finding the best birthday party bus packages does not need to be as difficult as it seems. Keeping a few tips in mind can simplify the entire process. The most important piece of information to keep in mind is to choose a service your child will enjoy. Since it is her special day, you should be sure that the service you hire will treat her right.
If you are searching for a River Oaks party bus for kids, look no further than Rockstar Spa Bus. We have everything you need to give your child the party of her dreams. Our party hostess will take care of everything, from the music to the entertainment to clean up. We know that searching for the best party venue for your child can be challenging. Party buses are relatively new ideas for a child's part. As such, we know that you may be unfamiliar with finding the best one. To help give you peace of mind, our hostesses are always happy to speak to you one-on-one. You can contact us by calling 1-844-GIRL-SPA with any questions you may have. Alternatively, you can reach us through our website at https://www.rockstarspabus.com. Our goal is to give your daughter the day of her dreams. Take a look at some tips below, or give us a call today.
Tip #1: Have A Flexible Budget In Mind Before Looking For Birthday Party Bus Packages
Some parents may be tempted to firm up their budget before looking for birthday party bus packages. This may seem like an ideal way to control your costs, but it can backfire. Not all party bus companies offer the same or comparable services. As a result, trying to figure out which fits into your budget best can be a mathematical nightmare.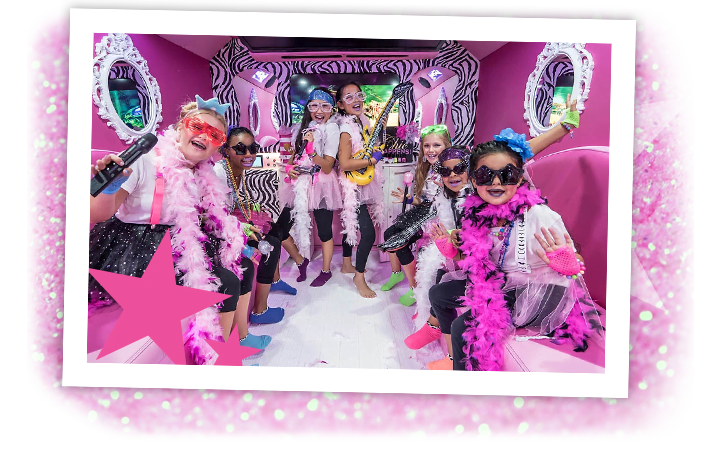 Instead, have a flexible budget in mind. Obviously, you will have a ceiling limit, but try to avoid specific numbers in specific areas. Some services may provide the makeup required for the party. Other services may offer entertainment, but mandate that parents provide the makeup. It can be tricky to compare costs if you only have one rigid number in mind. Instead, take the time to compare the services offered by each company. Ideally, you will find a company that will do it all for you, with one easy to read quote.
Parents in River Oaks can call Rockstar Spa Bus to learn more about our party packages. We want to be sure that our quotes are as easy to understand as possible. We strive to provide you with everything you need for your party. All you need to do is ensure your daughter and her friends are waiting on time. Parents on a budget often tell us they appreciate this type of clear-cut pricing. You know exactly what you are paying for with no hidden surprises. Visit our website at https://rockstarspabus.com to learn more. If you have questions, feel free to contact our party hostesses by calling 1-844-GIRL-SPA today.
Tip #2: Hire A Party Bus Service Your Daughter Will Enjoy
Hiring a party bus service your daughter will love may seem like an obvious tip. It is an important one to keep in mind. Each and every child is different, and not all girls enjoy the same things. When you are looking for a service, be sure you look for one with tailored options. For example, your daughter's taste in music may not be typical for kids of her age. When looking for a party bus, be sure you find one that will avoid music she hates.
The best way to tell whether or not your daughter will enjoy a service is to view their website. Most companies will have information about their packages available online. Review the entire website, and look for pictures and videos of prior parties. This will give you an excellent idea of what your daughter can expect on her special day. If you have questions, always feel free to ask. Avoid hiring any party bus service that provides vague answers or is hard to reach.
If you are in the River Oaks area, consider hiring Rockstar Spa Bus. Our party hostesses are happy to work with you to ensure your child has the best day possible. You can learn more, view photos, and watch videos by visiting https://rockstarspabus.com. We pride ourselves on the satisfaction of our young customers. If your daughter wants a specific song played, simply let us know.  Parents can contact our office staff by calling 1-844-GIRL-SPA with any questions. We will do everything we can to give you the answers you need.
The Bottom Line On Finding A Kids Party Bus River Oaks
Finding the best party bus service in River Oaks is not as difficult as it seems. If you follow the tips above, you are sure to give your daughter a celebration she will always remember. Parents in the River Oaks or greater Houston area can contact Rockstar Spa Bus. Our hostesses are skilled at ensuring each and every client feels like the rock star she is on her special day. We bring the party with us and drive away with the mess. Parents love the ease and convenience our parties bring. Kids love being pampered in a grown-up way. You can learn more by visiting our website at https://rockstarspabus.com. Parents are also invited to give our office staff a call at 1-844-GIRL-SPA with any questions. If you are searching for the best kids party bus River Oaks, look no further than Rockstar Spa Bus.
About River Oaks:
River Oaks is a beautiful community located in the heart of Houston
It is home to the first shopping center in Houston, constructed in 1927
The area also boasts the River Oaks Chamber Orchestra, one of the most renowned in the United States
You can learn more about River Oaks by visiting http://www.ropo.org