Kids Spa Party Katy TX
Are you planning a kids spa party Katy TX? Spa parties are the best way to help your daughter celebrate any occasion. Parents often book these types of parties for birthdays, graduations, and other accomplishments. They are a great way to help your daughter bond with her friends while getting pampered in the process. Spa bus parties are also comparably priced to other themed parties. As an added benefit to you, they are much easier to plan and clean up. The bus will roll up with everything you need, and drive away with the mess.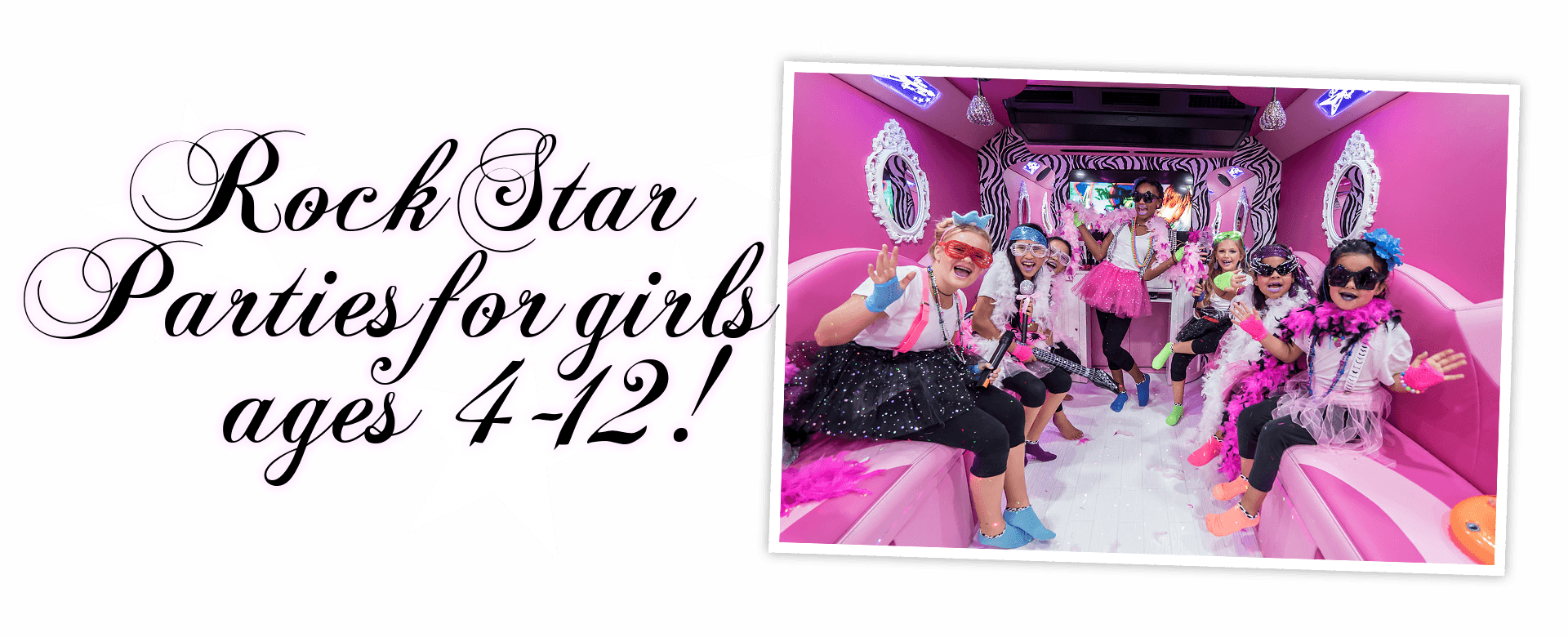 Preparing 10 girls for a mobile spa bus party seems like a big challenge. The payoff is huge, especially in terms of your after-party effort. It still can feel overwhelming to get everyone ready in time for the bus to arrive. There are a few things that you can do to make preparing for the party much easier. Be sure to communicate clearly with other parents and guardians involved. Ask each child to arrive without nail polish, hair product, or makeup. You should also keep a few general safety tips in mind when speaking to your guests. As long as you follow those general guidelines, the party will go off without a hitch.
If you are planning a spa party in Houston or Katy, contact Rockstar Spa Bus. We have a team of party bus experts ready to help give you the advice you need. Our services are tailored to girls between the ages of 4 and 12, so we have seen it all. We are happy to answer any questions you have and to help however we can with planning. You can learn more about our party packages by visiting us online at https://rockstarspabus.com. Parents can also call 1-844-GIRL-SPA to speak with one of our party planning experts today.
Communicate With Other Parents About The Spa Party In Houston Or Katy In Advance
Be sure you communicate with other parents about your spa party in Houston or Katy in advance. You may want to coordinate a day that works for your family, other attendees, and the spa company itself. Some companies, like ours, allow for online booking. Online booking allows you to quickly and easily see available dates and times. You can then work with other parents and families to find a date that is suitable for everyone.
Please make also be sure that you speak with other parents about any accommodations their children may require. You can speak with our friendly party planning experts to learn more about the components of the makeup we use. If there are other requests or accommodations required, please let us know. In most cases, the party-planning expert you speak with can arrange for those accommodations to be met. Many companies, Rockstar Spa Bus included, also require permission forms. You can find ours online by visiting our website. Be sure that each child has a permission form signed before boarding the bus.
If you have questions or concerns, you can always contact our friendly staff members by calling 1-844-GIRL-SPA. You can also learn more about our packages and timing by visiting us online at https://rockstarspabus.com. At Rockstar Spa Bus, the comfort of our guests is our biggest priority. We want to be sure that your daughter and her friends have the day of their dreams. Ensuring that each child's needs are met is part of how we reach that goal.
Be Sure The Girls Are Ready For Their Mobile Spa Bus Party
We want to be sure that each child gets the most out of her time with us. As a result, we ask that parents ensure everyone is ready before the mobile spa bus party time. It is very helpful to have each child remove any existing nail polish, hair products, and makeup in advance. This way we can get right to pampering without taking any boring preparatory steps. Removing nail polish and makeup can take a considerable amount of time.  Be sure that each child is bare-nailed, clean-faced, and ready when the bus arrives. Some people find it helpful to put this information in the party invitations directly.
If you have any questions about how to prepare your child and her guests, contact your party expert. You can always reach a Rockstar Spa Bus party hostess by calling 1-844-GIRL-SPA. We want to be sure the day is perfect, for your daughter and her friends. You can learn more about the various packages we have by visiting https://rockstarspabus.com. This can help give you an idea of how to best prepare your daughter and her friends.
Other Important Information About Planning A Kids Spa Party Katy TX
There are a few other things you should keep in mind when planning a spa party in Houston or Katy. Ask each parent about any sensitivities or issues their children may have. Some children cannot tolerate being touched, for example. Others may have sensitivities to certain types of makeup. Be sure you have as much information as possible about any special requests your guests have. This can take a lot of stress off of your daughter, who may feel compelled to care for her friends. It will also ensure that everyone on the bus enjoys the special day.
Parents can contact our head office if they have concerns. Our party-planning experts can speak with you and let you know what steps you can take. They want to be sure that the party is as special as possible for everyone involved. You can reach our office staff by calling 1-844-GIRL-SPA. Families who want to learn more can also visit us online at https://rockstarspabus.com. We can give you tips on how to get permission forms returned and provide other advice. Planning a kids spa party Katy TX will not be a challenge if you hire Rockstar Spa Bus.
About Katy:
Katy is a beautiful city located just 20 minutes from Houston
The area is home to family-friendly attractions and romantic getaways alike
Visitors can enjoy watching the Katy Tigers or exploring one of the many hiking trails
Visit the city of Katy online at http://www.cityofkaty.com