Little Girls Birthday Parties
Most parents know the struggle of trying to plan little girls birthday parties. You want to be sure you give your daughter the best day possible. At the same time, you also want to do something unique and special. Trying to combine those desires without breaking the bank can be tricky. Once you add in your daughter's own tastes and preferences, it can feel impossible.
The best place to start is to decide on a girl's birthday party theme. Once you have a theme set, all the other decisions tend to fall into place. One popular choice is to hire a mobile spa bus to pamper your daughter and a few of her best friends. These buses are perfect choices for many reasons. Once you learn more about the perks of hiring a mobile spa, you will want to book one immediately.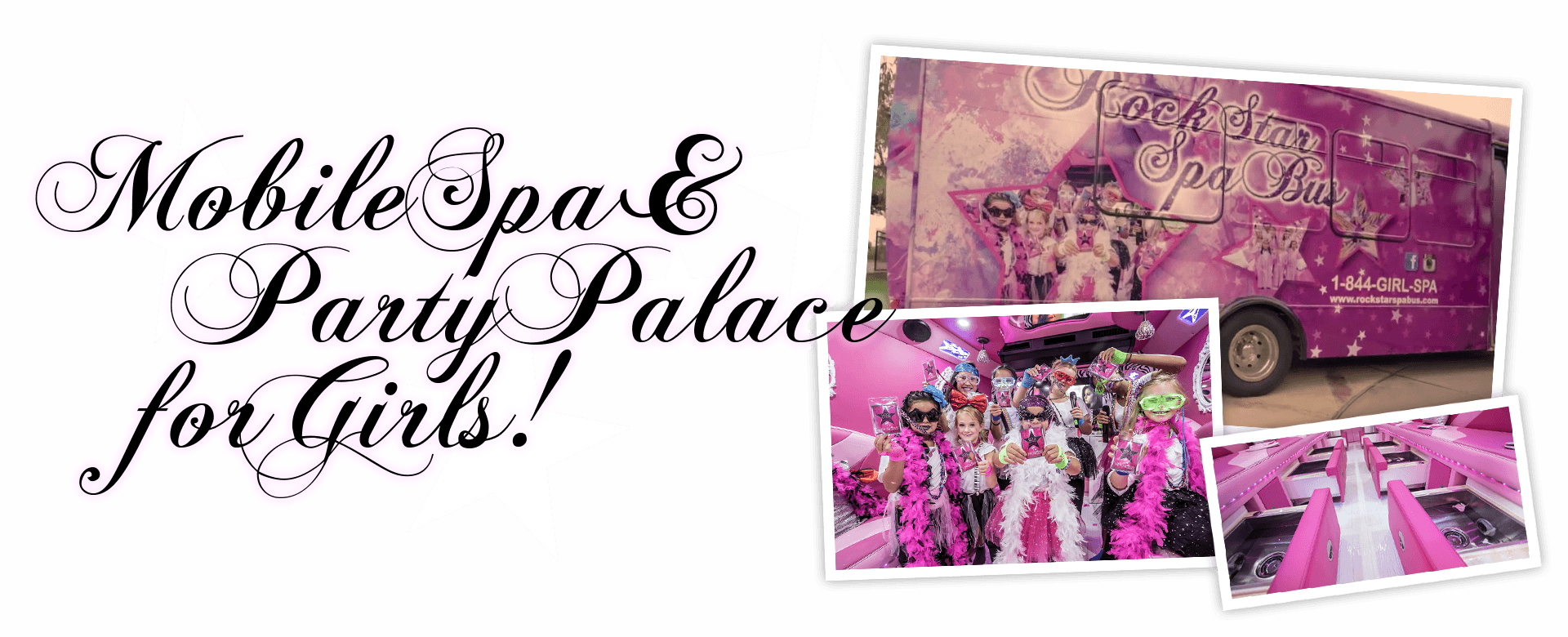 If you are looking for birthday party places for girls, call Rockstar Spa Bus today. We have experienced party planning experts on staff ready to help you. We want to ensure that your daughter has a party she will never forget. Our party hostesses will roll up in our luxurious bus with everything you need to feel pampered. We provide makeup, hair accessories, and nail polish. Our buses come with a full sound system, so we can crank your child's favorite tunes. We also have a karaoke system onboard, to complete the rock star experience. Take a look at a few reasons why you should hire a mobile spa bus, and contact us today.
Reason #1: Mobile Spas Make For The Perfect Girl's Birthday Party Theme
Trying to decide on a girl's birthday party theme can be very difficult. Most girls have many different and often conflicting interests. It can be hard to figure out one unifying theme to tie everything together. Once you are able to select one, every other decision becomes much more simple.
A mobile spa is a perfect theme because it is able to tie together different interests with ease. Our party hostess will ensure your daughter and her friends are treated like rockstars. There is no little girl who would turn down a custom pamper party. You can choose the music, so it is easy to avoid things that your daughter hates. Each one of the Rockstar Spa Buses also has internet capability. This means your daughter and her friends can even customize the karaoke hits they belt out in style.
If you are thinking about booking a mobile spa party, contact Rockstar Spa Bus today. Our friendly party hostesses are happy to discuss your needs with you. We want to be sure that your daughter and her friends have the party of their dreams. We are happy to work with you to do what we can to make that a reality. You can contact us by calling 1-844-GIRL-SPA. You can also visit us online at https://rockstarspabus.com.
Reason #2: There Is No Need To Set Up Or Clean up The Birthday Party Place For Girls
Set up and clean up are the biggest issues with booking a birthday party place for girls. Most venues do not come with any sort of decoration. As a result, you have to do a lot of work to make the party place look perfect. Most parents do not have that kind of free time they are willing to spend away from their families. Booking a party place that is already decorated can save you a lot of energy, money, and time.
Most traditional birthday party venues also require parents to stay behind and clean up after the party. This can be a massive chore depending on the age group involved. It also brings the tone of the day down dramatically. Your birthday girl would probably prefer to go home and bask in her birthday joy. Instead, she may have to stay behind and wait while the decorations are packed away and the hall swept.
Booking a mobile spa party removes both of those stressors in your life. Our Rockstar Spa Bus will pull up completely decked out in luxurious pink décor. Party hostesses provide everything from the tunes to the makeup. There is nothing for you to worry about when you book your daughter's party with us. You can learn more about the packages available by visiting us online at https://rockstarspabus.com. Parents can also speak with our friendly office staff by calling 1-844-GIRL-SPA. After the party is finished, we will drive away with the mess. You can enjoy the rest of your day with your rock star birthday girl instead of cleaning.
Reason #3: A Mobile Spa Is A Birthday Party Idea For Girls She Will Remember Forever
A mobile spa is a birthday party idea for girls your daughter will remember forever. As parents, we want to give our children the very best memories. Birthday parties, in particular, are a special time in every child's life. It makes sense that you would want to give her one that makes her feel as special as she is. Booking a mobile spa party is a great way to make her feel pampered.
Your daughter will also reflect back on this party as one of her early memories of bonding with friends. Studies show that girls who have a supportive and caring friend group thrive later on in life. Giving her and her friends this early opportunity to bond is a gift that will keep on giving.
Rockstar Spa Bus is Texas' premier mobile spa party service provider. We tailor all our services to girls aged 4 to 12 years of age. Our goal is to ensure that your young child feels pampered and adored, regardless of the occasion. When you book one of our party buses, you can expect your child will be treated like a rockstar. We provide all of the entertainment and makeup. All we ask is that your rockstar and her friends arrive with bare nails to maximize party fun. You can learn more about our services by visiting https://rockstarspabus.com. Parents can also contact us by calling 1-844-GIRL-SPA with any questions. If you are planning little girls birthday parties, contact Rockstar Spa Bus today.