Princess Birthday Parties Katy TX
When you are planning princess birthday parties Katy TX, you will have many companies to help you. Your daughter has spent the last year waiting for this day. It would be shameful not to give her the absolute best. It needs to be a day that she will remember for years to come. To make sure her day is special, cater to her interests.
Many young girls idolize princesses. They are their role models and showcase the height of elegance. There is no better way to make a girl's birthday party in Katy, Texas more exciting than to have a princess theme. Let her live out her princess fantasy with her friends, as she celebrates this important day.
To expand the fun, let your daughter enjoy a party afterward. This lets all of her friends enjoy their spa experience with dancing and laughter. The right environment promotes the energy needed to make a memorable experience. Lighting, music, and décor all bring out the princess in your little girl. Activities like karaoke, provide a much more interactive party feeling. They are much more engaging than traditional party ideas like going to a movie theater.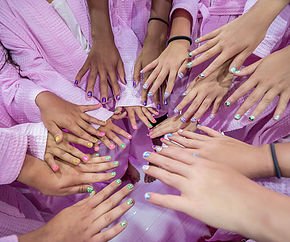 To give your princess the pampering she deserves, look to Rockstar Party Bus. We treat your daughter and her friends to premium spa services, and a great party too. To schedule your party, call 844-GIRL-SPA today. You can also visit us online at https://rockstarspabus.com.
What to Look for in a Princess Birthday Party in Houston
Once you have decided on a princess-themed party, you need to start bringing your plans together. To begin this process, you must find out how many people are going to be included in the fun. Many venues have limits to the number of guests they can handle. These limits are based on pricing, space, and materials needed to have the best experience.
For most parties, ten guests are the most recommended. A few more guests just incur an extra fee. However, the experience of a princess party becomes less special when you have a lot of guests. Part of the greatest princess birthday parties in Houston is the exclusive feeling. This exclusivity is something you are only able to get with smaller groups. By keeping the guest list short, you also ensure that all the guests are important to your child.
The venue is critical to the size of the party. It is also crucial to the success of the party. A trip somewhere new is exciting, but it brings a lot of other troubles. From logistics to travel time, going out for a party adds extra complexity to your planning. To bring a fresh space, without the struggles of a distant venue, you can check out a party bus. They bring the party to your place, while still giving the guests the excitement of a new location to explore.
At Rockstar Spa Bus, we bring the best parts of a princess birthday party in Houston together. You don't have to worry about a thing. To find out more about our birthday party packages, visit https://rockstarspabus.com. If you would like more information, call us at 844-GIRL-SPA.
Timing for Your Girl Birthday Party in Katy, Texas
In addition to the guest list, you need to sort out a few more details before you are ready to party. The date and time of the party are things that need a bit of thought put into it. While it is impossible to find a perfect date and time for all of your invited guests, you can make the best of it.
First, what day is going to be the best? While many people like weekend parties, stick to weekends without special activities. Check with the majority of your guests to ensure their weekend is free. It is occasionally easier to use a weekday to get everyone together. Many schools have half-days that make a great time for a party.
It is recommended that you stay away from holiday weekends. Many people travel during the holidays. There is a higher chance of having conflicts in scheduling around those times. It is also seen as rude in some circles to make parents choose between a holiday weekend and a birthday party.
Most children's birthday parties happen in the middle of the day. The best time of day to have the party is when your child is happiest. Most young children have time in the middle of the day that they are most agreeable. For some, this is late morning, early afternoon, or late afternoon. Make sure the time of the party works well for the birthday girl.
We create a memorable experience for your girls. The Rockstar Party Bus provides great fun to the birthday girl and her friends. Our staff brings quality spa services in an exciting atmosphere to your door. To book your party, call us at 844-GIRL-SPA. Check out our website at https://rockstarspabus.com to find out more.
Planning the Best Princess Birthday  Parties Katy TX
When you are looking to plan a princess party in Houston or the surrounding area, you need to have a great idea. The most successful parties channel your child's interests. They need to provide the activities your child enjoys. They also need to have an environment that promotes fun. For those girls who love being pampered like a princess, take a look at a spa party.
It is important that your birthday girl feels special, and with great spa services, she will. The awesome feeling that comes from being pampered lets her know how important she is to you. With a spa party, you treat your daughter and her friends to a very good time. They will talk about it for weeks and remember it for a lifetime.
All the details of your party come together with Rockstar Spa Bus. Our staff takes care of set-up and clean-up so that you don't have to. Visit https://rockstarspabus.com to learn more about our services. You can call 844-GIRL-SPA to talk with our staff today. At Rockstar Spa Bus, we make the best princess birthday parties Katy TX happen.
About Katy:
Katy is a city located in the western part of the Houston Metropolitan Area
The Katy Tigers, the local football team, plays out of the Rhodes Stadium in Katy
Typhoon Texas, located in Katy, TX, is a 43-acre water park
You can visit the city of Bellaire online at http://cityofkaty.com