Birthday Party for Girls Katy TX
Are you planning a Birthday Party For Girls Katy TX? If you have a little girl between the ages of 4 and 12, this can be a tricky task. We hear stories from parents all the time about struggling to plan the perfect party. Parents naturally want to give their children the very best, especially on birthdays.
Finding the perfect party venues in Katy, TX, can be difficult. There are a few different needs that you need to balance. Parties have to be easy to plan, as most parents lead hectic lives. You also want to be sure that you find something affordable yet amazing. Above all else, the party needs to require little in the way of ongoing maintenance. This way, you can be sure that your child is enjoying her party without constant stress.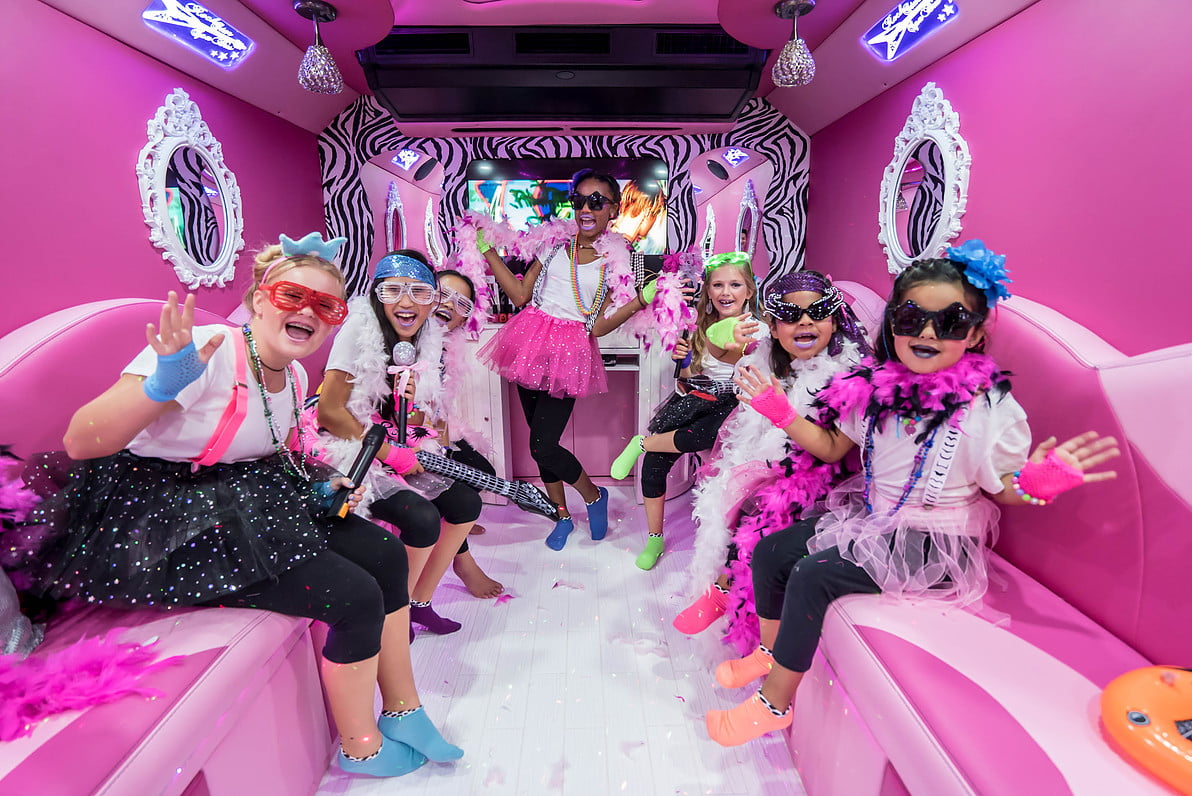 Rather than book one stationary Birthday Party place in Katy, contact us at Rockstar Spa Bus. Our friendly office staff members are always thrilled to hear from parents interested in learning more. We are Katy's premier mobile spa and party palace for girls. Rockstar Spa Bus is also the only bus in the state that has a whirlpool spa pedicure. We know your daughter is your special princess; treat her to a party befitting of one. Parents, relatives, and family friends can also contact us by phone to learn more by calling 1-844-GIRL-SPA today.
Reason #1: You Want Your Girls' Birthday Party In Katy To Be Easy To Plan
We know that parents lead very busy lives. As a result, your Girls' Birthday party in Katy must be easy to plan. This reduces the chance that you forget or overlook a crucial aspect. It also cuts down on the time you have to spend on this particular household task. Easy to plan parties mean that you can spend more time with your family.
Planning a Rockstar Spa Bus party is one of the easiest things you can do as a parent. We take on all the work involved, ensuring that the party is a hit with minimal effort on your part. Give us a call, pick a package, and tell us a bit about your child. Our party planning experts will take care of the rest. Your hostess will ensure that everything is ready when the bus pulls up.
Busy parents, or those who feel a bit out of touch with their child's interests, love this service. Our hostess will pick the music, ensure there are plenty of props for selfies, and orchestrate the perfect party. Your child and her friends will love being treated like rock stars as they are pampered.
Reason #2: Trying To Book An Affordable Party Venue In Katy Is Difficult
Another challenge of a party is trying to find an affordable party venue in Katy. Most parties for kids between 4 and 12 consist of about ten girls. Ten guests are often way too many for some homes. In addition to trying to find room for that many children, there will almost always be a mess after. This inspires many parents to look for another venue. Costs can then quickly add up, especially if you factor in food and entertainment. What started as a single party can spiral out of control fast.
By booking a spa bus, you can easily control expenses. Rockstar Spa Bus has a variety of packages to suit all tastes and budgets. Each package gives you almost two hours of non-stop party action to entertain your guests. They also come with all the features you need to make a spa day great. Items such as makeup, polish, and even hair treatments are included in all packages. There is no need to stress about extra costs when you book with us.
We are happy to help you find the package that is best for your family. Most start at less than $50 per child. When compared to other traditional birthday outings, this is an incredible deal.
Reason #3: Many Birthday Party Places In Katy Require A Lot Of Work Before They Are Party Ready
Another huge perk to booking a spa bus party is the minimal work involved on your part. You contact us, and we take care of the rest. You do not need to worry about decorating a birthday party place in Katy. Parents also can forget about the pain involved in cleaning up afterward. We will pull up, treat your child like a rock star, and drive away, leaving you with a happy group of kids. Our goal is to ensure that your child has the party of her dreams. Making it as straightforward as possible for her parents is one way we achieve that goal.
What To Know When Planning A Birthday Party For Girls Katy TX
Before you book your party, be sure you have information about each guest. This includes things like allergies and sensitivities. Your party hostess will strive to meet the needs of all guests. You may also want to determine a time that works for all guests before booking your bus.
We invite parents and relatives to contact us at (844) GIRL-SPA or visit us here to learn more. We strive to give your child the birthday party of her dreams. If you are planning a birthday party for girls Katy TX, contact us first.
About Katy:
The City of Katy is a beautiful area close to Houston, Texas
Visitors can tour the ancestral homes of Katy, taking in the town's rich history
You can also join the locals at the Katy Tiger Football games, a weekly tradition for decades
Visit the City of Katy online at https://www.cityofkaty.com