Girls Birthday Parties Katy TX
Planning Girls Birthday Parties Katy TX can be challenging. We all want to impress our children, especially on their birthdays. After all, they bring all of us such joy on a daily basis. Figuring out a theme or a plan for the perfect party is really tricky. It is even harder if you want to somehow surprise your child with something amazing.
If you are looking for the perfect party venue in Katy, consider a spa bus. Your child, and her friends, will be thrilled when they see our party bus roll up to your home. These parties are perfect for adults for many reasons, but they are designed for kids. There is no better way to show your little princess how much you care. Our Rockstar Spa Bus is sure to impress regardless of your child's other interests. Keeping this event a surprise may be tricky, but we think that the look on her face is worth it.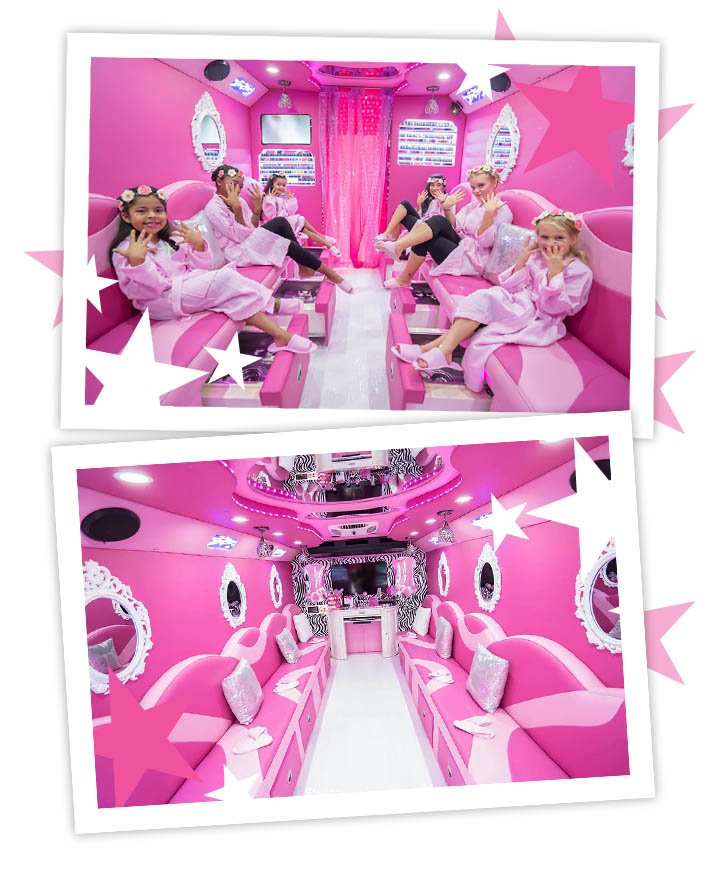 We pride ourselves on being the premiere birthday party place in Katy for girls. Rockstar Spa Bus offers a variety of packages to suit every child's taste, and every parent's budget. Each ride lasts almost two hours, and is filled with non-stop entertainment.
Invest In A Birthday Party For Girls In Katy That She'll Remember Forever
A spa party is a birthday party for girls in Katy that she'll remember forever. You will definitely get bonus points if you are able to keep it a surprise. Our party hostess will ensure that nothing but her favorite tunes are on the radio. Your child can have a manicure, pedicure, and have her make up done in style.
The bus itself is luxurious, filled with rich fabrics and lush colors. Each child will receive a robe and other props, ensuring that the rock star experience is complete. We ensure that the makeup applied suits each girl and is in keeping with latest fashions. Your little girl will remember the way she was pampered forever.
You can choose from one of many flexible packages containing everything you need. We also offer gift certificates, so relatives and family friends can help pay for the experience. The look on your little girl's face when she realizes the party you have planned will be priceless. Parents can also benefit from our services. We pull up with the party in tow, and then drive away with the mess. Your only job is to give us a call, and we will take care of the rest.
Find A Birthday Party Venue In Katy That Will Treat Her Like The Star She Is
Every little girl wants to feel like she is a star. You want to find a birthday party venue in Katy that will treat her like the one she is. A Rockstar Spa Bus will ensure she knows that you believe she is a star too. Our packages are affordable, especially when compared with traditional parties like bowling or laser tag. A Rockstar Spa Bus party is also perfect for girls who have health or physical challenges. We can ensure that the bus is suited to meet the needs of your child and her guests. Every little girl deserves to have the party of her dreams. A party bus is often the best way to make that dream come true.
Each guest will receive a manicure, pedicure, and full makeup. We will also add extensions and glitter to hair. At the end of the ride, your party will be filled with glamorous rock stars. Each bus also has a karaoke machine on board, to be sure they can live out their on-stage fantasies.
Learn more about our packages and services by visiting us here. You can also book online or find out more about our company. Parents with further questions can always contact our office staff by calling (844) GIRL-SPA. We want to be sure that your daughter has the day of her dreams.
How To Book The Best Girls Birthday Parties Katy TX
When you contact Rockstar Spa Bus, try to have the following information at hand:
any allergies, sensitivities, or special requirements
a list of guests
a few different interests your child has
the name of the birthday girl
your address
information relating to the deposit
Having this information ahead of time can help us prepare the best experience possible. Knowledge of any needs or requirements can also help us prepare ahead of time. We want to be sure that your daughter and all her guests are as comfortable as possible.
You should also prepare a list of questions you may have ahead of time. This way you can be sure you do not forget to ask about anything of importance to you. Information about payment terms and other frequently asked questions is available online. Specific questions about the nature of each package may require a call to our office. You can visit us online at https://rockstarspabus.com. You can also contact us by phone by calling 1-844-GIRL-SPA today.
Planning a birthday party for your little girl does not need to be difficult. Contact Rockstar Spa Bus today and we can make it easy. Parents love the low-mess and convenience of a party bus. You only have to make the call, and we will take care of everything else. There is no need to concern yourself with mess, cleaning up, or booking a venue. The only work on your part will be to gather permission forms from the attendees. After that task is done, you too can sit back and relax. If you want to learn more about how to book the best girls birthday parties Katy TX, contact us today.
About Katy:
Katy is a beautiful city located about 20 minutes from the heart of Houston
The area is home to historic homes and beautiful hiking trails
Beer enthusiasts can enjoy the many craft breweries in the area
Visit the city of Katy online at http://www.cityofkaty.com