Girls Spa Party Katy TX
Are you thinking of booking a Girls Spa Party Katy TX? These parties are great options for the little rock stars in your life. They are perfect for many different occasions as well. Many parents book these types of parties for graduations or as a reward for receiving excellent grades. Sports teams are also huge fans of a spa party to close out the end of a tough season.
Rather than looking for a party venue in Katy that can accommodate a spa, why not book a bus? There are a few considerations you will need to keep in mind as you look for a service. It is helpful to have a preliminary list of guests at this stage. This can help you figure out how many girls will attend. It can also help you figure out if there are any sensitivities or health concerns involved.
If you are looking for a spa party in Houston or Katy, give Rockstar Spa Bus a call. We pride ourselves on offering girls in Katy and Houston the best parties possible. We know that every little girl is a rock star in her own right. Our party buses allow them to live out their rock star dreams. We offer makeovers, manicures, pedicures, and more. Along with these cosmetic services, our hostess ensures there is other, fantastic entertainment. We will blast your child's favorite tunes over the radio or through karaoke.
Look For A Spa Party In Houston Or Katy With A Great Reputation
Be sure you look for a spa party in Houston or Katy with an excellent reputation. You can easily find this information out through word of mouth. Parents can also read up on various services through local parenting forums or websites. You may want to ask other parents of your child's friends if they have recommendations. News of spa buses and parties often spread faster through word of mouth than advertising. You can look up any service recommended to you on the chamber of commerce website. This can let you know if there is any pending litigation or registered complaints.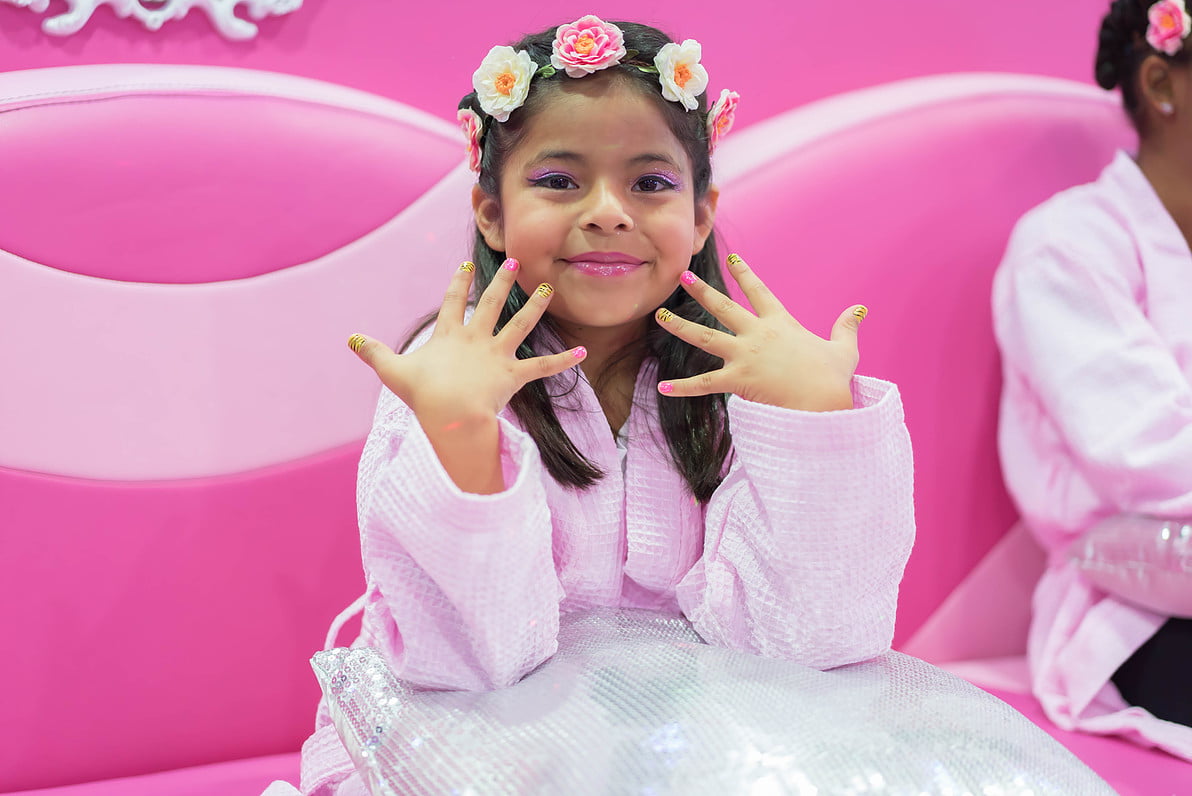 When you are reading up on the service provider, look into the typical age groups serviced. A spa party that is perfect for your friend's bachelorette party may not be ideal for your six years old's party. While there are companies that cater to all ages, you may want to find a specialty service. In our experience, spa bus services tailored to children are way more fun for the kids involved.
Each one of our buses is decked out to suit the tastes of a younger child. We know that children do not often feel as unique as they should. There are very few things that are just for them, especially when it comes to party services. That's why we strive to give them the best parities possible. Our services, makeup, and even music are tailored to their interests.
Ask The Mobile Spa Bus Provider About The Products They Use
When you call to book a mobile spa bus, ask about the products they use. Most services will use hypoallergenic products, uniquely if they are tailored to young girls. These products are easy to remove and the least likely to cause unfavorable reactions. You may want to get a list of products so you can test a few on your child in advance. In other cases, other parents will have questions about these products. By having the answers in hand, you can set their minds at the east faster.
You should also ask about any elements of the spa day that they do not provide. For example, some spa buses do not provide music or robes. These two qualities are essential to a fun spa bus experience, so it is important to have this information. Where possible, avoid hiring a spa bus where you need to supply the majority of the materials. This can get costly fast and can drag down the tone of the day.
Rockstar Spa Bus supplies all of the items you need. We know that you have enough to worry about, so we take care of the party for you. Our party hostess will ensure there are robes, tunes, and makeup available for each princess invited. Contact us at 1-844-GIRL-SPA to learn more. You can also click here to get details about each of our packages.
Inquire About Accommodations For Glamour Party Bus Attendees
Be sure to ask about the availability of accommodations for glamour party bus guests. In some cases, there may be guests with sensitivities or allergies that need to be kept in mind. In other situations, there may be mobility issues or concerns that you need to accommodate. Regardless of the specific need, it is important that the service you hire can meet it. No one wants a little girl to feel left out on a special day.
It is helpful to have a preliminary list of guests in mind before you start calling around. This way, you can be sure you hire a service that will accommodate any need.  Our office staff members are happy to help parents find ways to provide each guest. You can give us a call at 1-844-GIRL-SPA with any concerns. You can also contact us online at https://www.rockstarspabus.com. We will do our best to ensure that every rockstar on our ride feels included.
How To Book The Best Girls Spa Party Katy TX
Booking the best glamour party bus in the area is easy when you contact Rockstar Spa Bus. We want to be sure that every little girl feels special, and do everything we can to meet that goal. Contact our staff members at 1-844-GIRL-SPA to learn more. You can also learn more and book your bus online by visiting https://rockstarspabus.com. If you want to book the best girls spa party Katy TX, contact us today.
About Katy:
Katy is a charming city located 20 minutes from the heart of Houston
The area is home to stunning hiking trails and many historic sites
There is also world-class dining and a ton of family-friendly entertainment
You can visit the city of Katy online at http://www.cityofkaty.com